The "Why?" of Eclectic Art Prints by Marion W. Fleming
Jun 14, 2020
By Julie Callahan
Greetings! This is my first blog entry on the new Eclectic Art Prints website, MWFleming.com. Thank you for visiting.
For my first post, I want to talk about my "Why?" for starting Eclectic Art Prints when I am not an artist. Rather, the art presented on this site was painted by my mother, Marion Wilcox Fleming.
Throughout my childhood, there was always an easel with a painting in progress and the occasional odor of turpentine and linseed oil in our house. It was amazing to see the daily transformation of a painting to its final form and to hear her talk about her progress. Somehow, I felt her work gave me a special window into the world, her capture of a worthy moment or something beautiful.
Years after I left home as an adult, Marion began to travel to see the world and many of her paintings come from those travels. The paintings she created from her trip to Central Asia and Russia are especially interesting. Her watercolors and pastel portraits from that period are, I believe, some of her most skilled work.
Sadly, she later developed a rare and tenacious liver cancer. At its first appearance, she nearly died from blood loss. It took months to recover. For a few years, it seemed she hadn't changed much. But, despite a second surgery and an experimental treatment, the cancer was not deterred. Eventually, she was completely confined to her bed as the simple act of standing and taking a few steps made her nauseous.
And yet, her creative spirit persevered for as long as she could hold a brush in her hand; she painted several pieces while propped up in bed. You can imagine it broke our hearts that someone with so much talent and appreciation of the beauty to be found in the world would be taken from us too soon. Anyone who has lost their mother can understand that she left a hole in my universe when she died.
For most of our lives, even before my mother became ill, my brothers and I have wanted to make prints of her artwork, to make her work more widely known and enjoyed in people's homes. After her long illness and death, making prints of her work seemed even more important to give her a legacy and give her some of the recognition she did not seek for herself as the modest person she was. But how to do it? It is not an inexpensive endeavor and technology was changing.
Many years passed, but four years ago, I was lucky to find a great company called Old Town Editions, in Alexandria, Virginia. They take high-quality digital photographs and carefully match the colors in the image to the original painting. The process is rather involved and requires a lot of skill. I am very pleased with their conscientious work and I'm so proud to begin putting those images on-line for reproduction as prints.
I invite you to take a few moments to view the paintings and see some of the lovely scenes that captured Marion's attention to present to the world. More are coming, so stop back again periodically. And, if you like her work, please tell a friend about her.
Julie <3
Curator
Eclectic Art Prints by Marion W. Fleming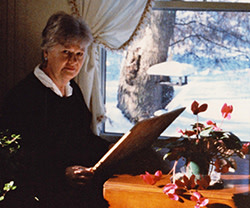 ​