Summer Fun, Vermont Style!
Jun 23, 2020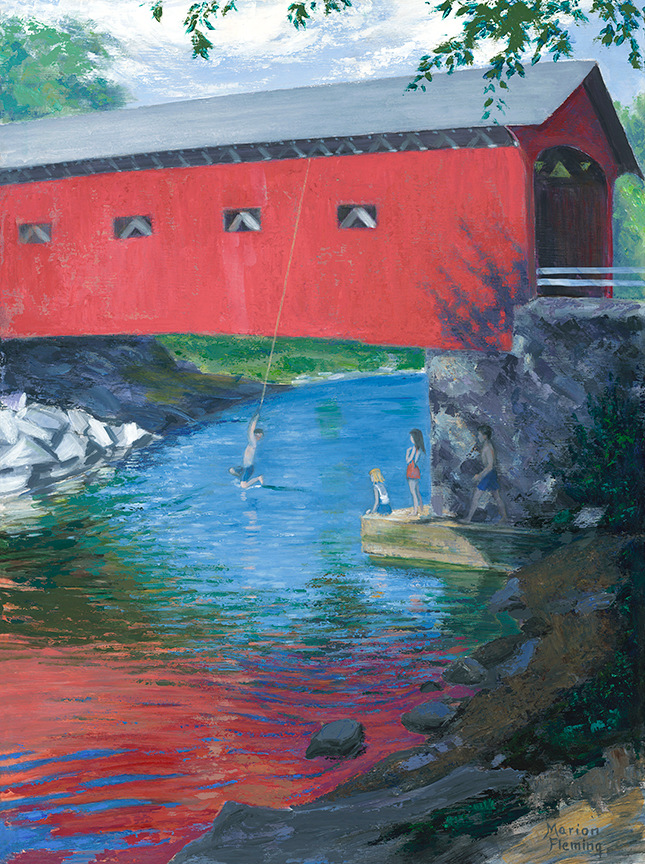 It's getting hot and this swimming hole is a kid's heaven! If affords deep water and a swing rope in the shadow of one of Vermont's famous covered bridges in West Arlington, Vermont. It's an iconic location and many a child who lives outside Arlington has begged their parents to take them to this spot when they visited Vermont family during the summer. I know I did!
The ice-cold Battenkill river runs through Arlington, offering tubing and fly fishing. It's a wonderful place to grow up for learning to appreciate nature and Revolutionary War history--much of the famous action occurred in the Arlington and Bennington, Vermont area. (Ever hear of the Green Mountain Boys?)

Just behind the viewer of this scene and to the right was the one-time home of Norman Rockwell of Saturday Evening Post fame. Norma Rockwell advised young Marion Wilcox concerning various art-related topics and was the mentor who suggested she attend Pratt Institute in Brooklyn, New York, for her art training. Marion's father even built a studio for Mr. Rockwell by refurbishing an old barn after Mr. Rockwell's original studio burned down.

In the late 1940s, Norman Rockwell was famous for the cover illustrations the Saturday Evening Post which featured the faces of many Arlington residents, including the illustration of Rosie the Riveter. Several other artists resided in Arlington during that time and thus, the town came to be known as an artist's colony. It was in this vibrant art environment that Marion determined by nine years old that she had a love for art.
Original painting entitled Covered Bridge Swimming Hole, in acrylic by Marion Wilcox Fleming
Julie <3

.